Who is a changemaker?
A changemaker is one who achieves positive change for the greater good by taking innovative action.
He or she influences and inspires others to support until the change is achieved.
Imagine a young girl between the ages of 15-18 being bestowed as a changemaker for their school. Feels like a heavy load one can carry.
How do you navigate this role effectively?
How do you act as a changemaker and be able to in turn educate your fellow students? Seems like a hurdle to me if you ask.
Was that even the case?
This is an amazing project and I'll want my friends to hear about it so I'll definitely spread the word.

Patience, our lady providence
This assertion on the first day crumbled all the worry and gave confidence that they were going to benefit a lot from this project.
Now lets get into details of how the project proceeded. We had a 4 day workshop to imbibe in their inner self the need to be creative and innovative. Girls from 3 SHS schools namely Serwaa Kesse SHS, Notre Dame SHS and Our Lady of Providence Girls' received training in various entrepreneurial development.
These girls were taken through various training namely in innovation, problem identification and solving, business models, how to identify their unique selling points and also communication and social media.
How do you turn your passion into a business idea?
It's one thing to perform a role and another to be passionate about it. Entrepreneurship becomes easy only when you're passionate about it.
The next step is applying it to a business model to check its feasibility.
HIGHLIGHT OF EACH DAY
Our changemakers identified their passions and limitations and you should consider doing the same too. Having an idea of what you're passionate about helps you narrow down on the things that are achievable and what are not.
On DAY 2, business models were introduced to the girls. Every business needs a model for it to operate effectively because a business is about the people. A simple business model addresses the following: the resources you need for your business, what value you are providing, how to reach your customers, your expenses and income.
It is amazing to see young girls come up with brilliant ideas like a disease detector, preserved pito (pito: local African drink), a wooden calculator, among others.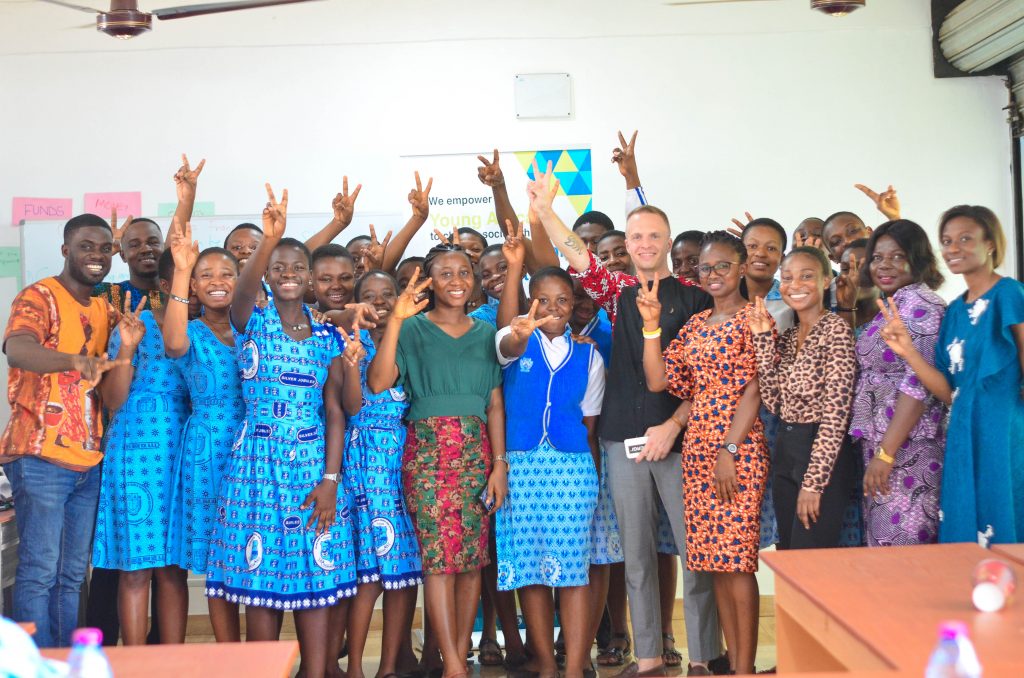 STORYTELLING
Storytelling is a major part of the entrepreneurial journey. Every successful entrepreneur sells an idea by telling stories. Stories of how they were able to identify a problem and provide solutions to that problem. What better way to boost the confidence of these young girls than to inspire them with a local entrepreneur.
People feel connected to whatever you do when you're relatable and they can draw inspiration from you.
On DAY 4, we looked at essence of social media and how to leverage it to grow your business. We shouldn't deny the impact of social media on the growth of businesses. More than half of the world's population use it as a means of communication.
It will be sad to limit them because that's where customers are focusing their attention. This brings us to the question; what's a brand without your customers or audience?
THINK LOCAL BEFORE GLOBAL
Our aim for this training is to be able to change the mindsets of these young females. The young girls from the various schools left inspired and confident that they can make a change in their own community.
They should be able to think locally before making global impact. There's so much of the world we haven't seen. Try to impact your world and then go on and take on the world.
Gloria Bribi
Communications Officer
Inspinest Foundation